Estéban Restaurant
Gather with friends for an authentic culinary experience at Estéban Restaurant at Casa Munras Garden Hotel & Spa. Enjoy modern Spanish and California cuisine, including authentic paellas, tapas, and the freshest seafood.
The menu at our downtown Monterey restaurant features shared plates and Spanish inspired classics, as well as house-made sangrias and seasonal craft cocktails. Share the octopus and truffles or spiced lamb chop. Savor the grilled Secreto de Iberico Pork or fresh catch with chimichurri paired with a Spanish margarita.
Estéban Restaurant is open for dinner. This local's favorite offers indoor and outdoor seating, and to-go daily. Dinner hours are from 4:30pm to 8:30pm Sunday - Thursday, and 4:30pm to 9:00pm Friday and Saturday. Be sure to review our tapas happy hour menu available for your enjoyment nightly from 4:30pm to 6:00pm. Our pup-friendly patio also has on hand a tasty treats menu. Don't be surprised if this is your pup's new favorite hangout. Call 831-375-0176 to reserve your table or order to-go.
We look forward to welcoming you!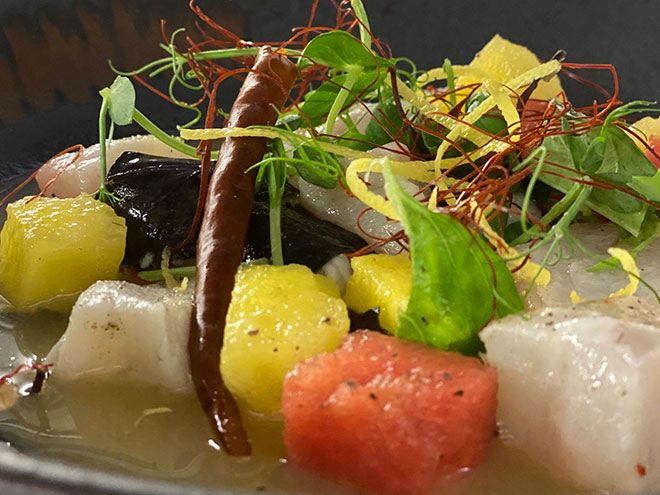 Engage Your Senses
At Estéban Restaurant, we know tasting whisky isn't just about taking a sip and swallowing, it's an art that engages all your senses: sight, smell, taste and even feel. To make your sensory journey even more exceptional, we created our very own Estéban
Reserve private label Kentucky bourbon. Our barrel aged, proprietary blend was created behind cellar doors by our Estéban Restaurant team. Whether you prefer your bourbon neat or enjoy it in your favorite cocktail, we invite you to sit back and relax while you experience the flavors of honeycomb, vanilla, and toasted marshmallow with the exceptionally harmonious finish.
Private Dining
Enjoy an intimate event, reception or party in the private dining room at Estéban. Gather in this charming space and enjoy modern Spanish cuisine and a curated wine selection.
Tapas Hour
Sip, savor and share traditional Spanish tapas like saffron arancini and empanadas with fries. Our Tapas Hour menu offers wine, beer, cocktails, and the best margarita in Monterey.
Seasonal Events
Fresh local ingredients and creative cooking inspire Estéban's seasonal events. Join us for holiday brunches, wine tastings, paella night, and weekly specials.